At TTDC, we have already conducted a wide range of initiatives to maintain and enhance the health of our employees, including implementing a complete ban on smoking on the premises of the Headquarters Building, ensuring the 100% uptake of regular health checks as mandated by law, the introduction of programs encouraging the return of furloughed employees back to the workplace, and so on.
In addition, to realize the further sustainable growth and development of TTDC in the future, we have pinpointed the health of our employees as a key issue. Based on this approach, we have formulated a health and productivity management declaration.
With employee happiness a key part of our Basic Philosophy, we are actively supporting and promoting a range of activities to maintain and enhance the health and productivity of everyone in the company.
Health and Productivity Management Declaration
At TTDC, people are our most valuable asset. We believe that maximizing the individual capabilities of our employees through their physical and mental wellbeing is the key to the continued development of the company.
Good health is the desire of every employee and their families. We are convinced that being a company that nurtures healthy and enthusiastic workplaces will help to enhance the happiness of all our employees.
We declare that we will make every effort to build and maintain a company in which every employee can work enthusiastically and in good health by actively supporting voluntary initiatives to encourage health and wellbeing and maintaining a framework to systematically encourage healthy and productive practices.
Yoshiyuki Kagawa, President
Organization to Promote Health and Productivity Management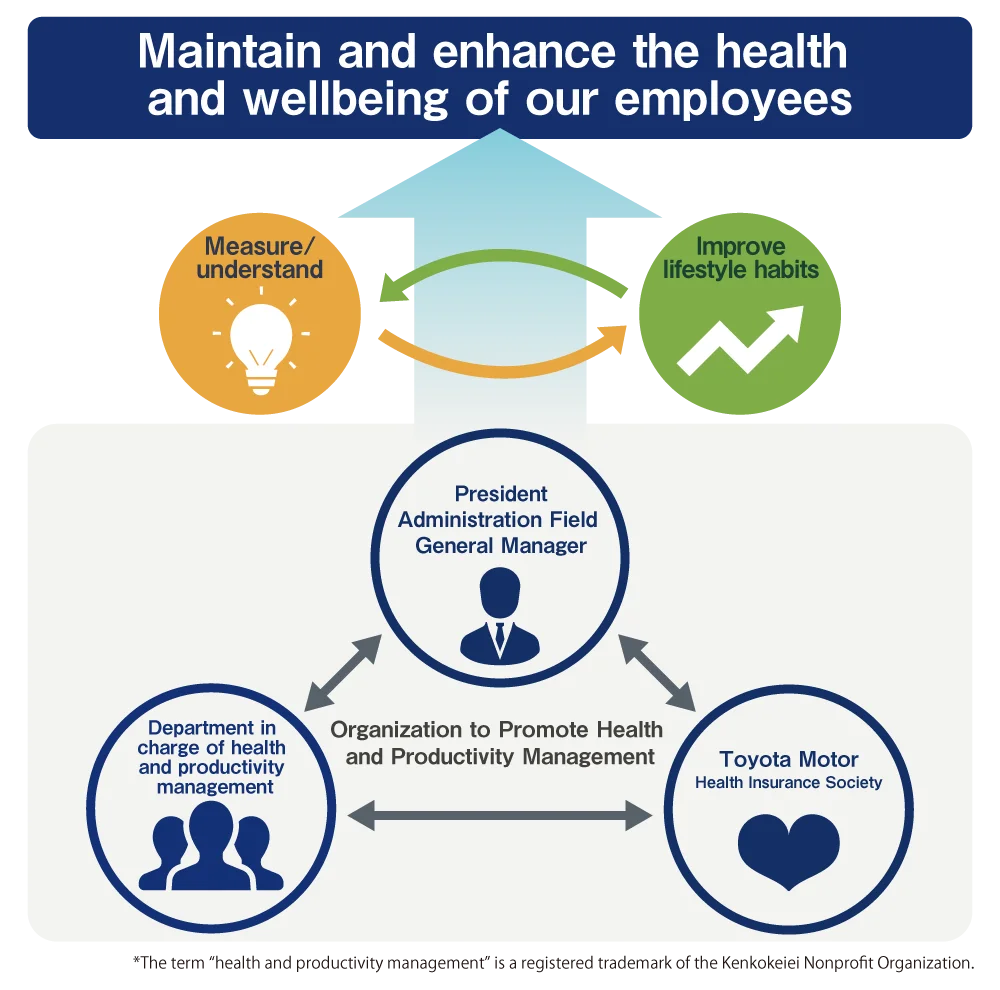 Initiatives to Enhance the Health of Our Employees
1.Promotion of activities to enhance health and wellbeing
Provision of free activity meters

Online virtual global walking events

Full menu of healthy options in the cafeteria

Provision of advice on health
2.Establishment of area dedicated to the health and wellbeing of our employees
Body composition analyzer and blood pressure gauge linked with activity meter

Scale for wheelchair users

Stretching

Posture checks using full-length mirror

Stride checks
Trunk and lower body training
Certifications
TTDC has been accredited as a 2023 Certified Health & Productivity Management Outstanding Organization, which recognizes companies practicing excellent health and productivity management in partnership with insurance companies. TTDC has also been recognized as a company that actively encourages and promotes sport (a so-called "Sports Yell Company") to enhance the health and wellbeing of its employees. It has also been re-awarded the Safety and Health Superior Enterprise Mark by the Japanese Ministry of Health, Labour and Welfare to recognize companies with an active track record in encouraging the safety and health of its employees, and that are working to maintain and further enhance a high level of health and safety within the company.